Single Topping
Slices Per Pizza
Size
Price
Thin / Hand Tossed
Deep Pan
Mini
$6
4
4
Small
$12
6
8
Gluten Free
$14
6
Cauliflower
$14
6
Large
$18
8
12
Extra Large
$24
12
16
Do you remember the joy you felt as a kid about PIZZA NIGHT? Remember how good it smelled? You could taste it, even before you opened the box. And then…that first bite. It was soooo good.
Be the supper time savior. Order Jim's Razorback Pizza now!
"The best pizza in Fort Smith or it's Free"
No additives or preservatives. Which means: Just simple, made froms cratch dough, every morning, every day.
Thin: White or Wheat
Deep Pan: White or Wheat
Hand Tossed: Small & Large Only
Gluten Free: Small Only
Cauliflower: Small Only
Crustless: Pizza in a Bowl
We use fresh packed tomatoes in our pizza sauces. Which means, no additives or preservatives in our sauces ever.
Smooth Red: It has a rich, smooth, slightly sweet flavor. It's the sauce we use with our deep pan and hand tossed crust.
Zesty Red: Has a pleasantly bold & zesty flavor. It's the sauce we use for our thin crust pizza.
Alfredo | Olive Oil | Bar-B-Que | Ranch Dressing (homemade) | Hot Chick (homemade spicy ranch)
Buffalo Blue Cheese (homemade) | Marinara
You can use any of our sauces on your pizza…(We Just Want You To Be Happy!)
Add: 8″ .50 | 11″ 1.00 | 13″ 1.50 | 16″ 2.00
Meats: Pepperoni, Pork Sausage, Italian Sausage, Beef, Chopped Ham, Sliced Ham, Salami
Premium Meats Add: 8″ .75 | 11″ 1.50 | 14″ 2.25  | 16″ 3.00
Bacon, Garlic Chicken, Steak.
Vegetables: Red Onions, Yellow Onions, Green Peppers, Broccoli, Fresh Basil, Roma Tomatoes, Black or Green Olives, Spinach, Pineapples, Banana Peppers, Jalapenos, Roasted Garlic. Sun-Dried Tomatoes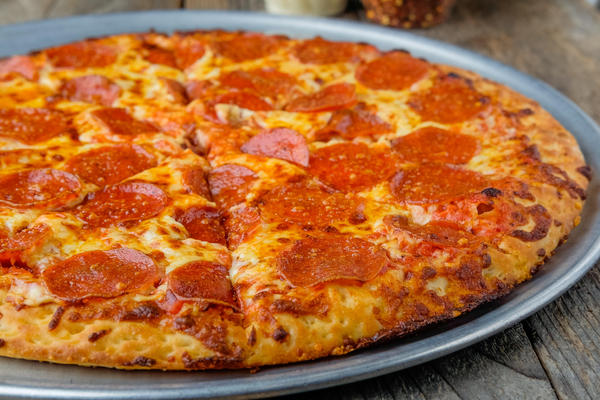 If you want unique flavor, use cheese that is manufactured in The Dairy Capital of the World. That's why we get our cheese from Wapaun, Wisconsin. These guys know how to bring you one-of-a-kind flavor. All of our pizzas use a blend of the following 4 cheeses:

Mozzarella: a smooth buttery flavor and is known for its stretch, low sodium content.
Smoked Prov0lone: a semi hard cheese that has a delicate blend of savory and tangy flavor. Smoking it gives it a sharper flavor.
Parmesan: a hard cheese with a nutty mildly sharp flavor.
Romano: also a hard cheese with a nutty (pleasantly sharp)flavor.
Additional Cheese Options
Asiago: has a delicately sweet and sour buttery flavor.
Feta: is a soft cheese that is aged in a salt brine, so it is slightly salty.
Cheddar/Jack: are both semi hard cheeses. Cheddar ranges from mild to very sharp.
Monterey Jack:is a mild cheese with a slight sweetness.
Vegan: Made in Greece by Violife® world renowned for its quality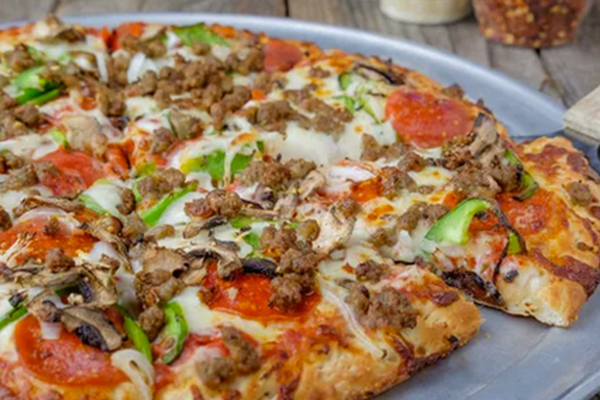 | | |
| --- | --- |
| Mini | $7.50 |
| Small | $15 |
| Cauliflower & Gluten Free | $17 |
| Large | $22 |
| Extra Large | $30 |
Razorsharp 6 Cheese
(is there ever enough cheese?)
Mozzarella, Smoked Provolone, Romano, Parmesan, Asiago,  Feta
Vegetarian
Onions, Mushrooms, Green Peppers, Black Olives, Tomatoes, Extra Cheese
Vegan
All the Vegetables! (No dairy or eggs) Violife® Vegan Cheese. Our Thin Crust, Hand Tossed, and our Smooth Red Sauce are Vegan Friendly.
Pizza with our Award-Winning Smoked Garlic Chicken
Razor Chicken: Choice of Alfredo or Red Sauce
Hot Chick: Hot Chick Sauce (zesty ranch)
Buffalo Blue Cheese: Buffalo Blue Cheese Sauce
Bar-B-Que Chicken: KC Masterpiece
Supreme
Pepperoni, Pork Sausage, Onions, Mushrooms, Green Peppers
Super Supreme
Pepperoni, Pork Sausage, Chopped Ham, Onions, Mushrooms, Green Peppers, Black Olives, Extra Cheese
Hawg Wild
Pepperoni, Pork Sausage, Chopped Ham
Boss Hawg Pizza
(Its a Meatzza Pizza)
Pepperoni, Sliced Ham, Salami, Pork Sausage, and Italian Sausage
Cheeseburger
Cheeseburger Sauce (Ketchup & Mustard) Beef, Cheddar/Jack, Red Onions, Hamburger Dills
Note: If you just want ketchup or mustard, let us know, We can do that.
Bacon Cheeseburger
Oh what a difference Bacon makes.
Philly Steak
Alfredo Sauce, Sliced Steak, Sauteed Onions, Green Peppers
Mediterranean
Olive Oil, Roasted Garlic, Black Olives, Green Olives, Rd Onions, Smoked Garlic Chicken, Tomatoes, Feta Cheese
Bar-B-Que Beef
Sliced Steak, KC Masterpiece
Pulled Pork
Featuring Whole Hog Cafe Pulled Pork (a local favorite)
Whole Hog Cafe Sauce Options:
#2 Tangy Tomato-smooth, Sweet & Tangy
#5 Sweet, Dark and Bold Molasses Flavor
#6 Rich Mustard & Vinegar- an Old South Favorite
Chicken Bacon Ranch
Spanish Pie
(It's a Taco Pizza)
Sausage, Cheddar/Jack Cheese, Tomatoes, Black Olives, Sour Cream, Salsa, Jalapenos
Margarita Pizza
Our Smooth Red Sauce, Sliced Tomatoes, Fresh Basil
Spaghetti or Cavatelli
Includes two hot thick slices of garlic bread.
SAUCE:
Traditional Red Marinara Sauce
Creamy Alfredo Sauce
MEATS: Pork Sausage | Italian Sausage| Beef | Chopped Canadian Bacon | Pepperoni | Garlic Chicken | Meatballs | Vegetarian Beef | Vegan Pepperoni | Vegetarian Spicy Sausage | Vegetarian Chicken
VEGGIES: Green Peppers| Yellow Onions | Red Onions | Fresh Mushrooms | Black Olives | Spinach | Banana Peppers | Broccoli | Sun Dried Tomatoes | Roma Tomatoes | Fresh Basil | Green Olives
Supreme | Chicken Supreme | Chicken Alfredo | Vegetarian | Classic Meatball

Sandwiches
Dressed with Creamy Italian
Ham| Salami | Razorback (ham& salami) | Vegetarian | Meat Ball (Marinara) | Turkey (Ranch) | Smoked Garlic Chicken (Mayo) | Philly Steak
Served with Chips and a Pickle Choice of White or Wheat Hoagie Bun and our Pizza Cheese.
Feel free to change your dressing option
$9
with 4oz of dressing
Dressing Options: Ranch (homemade), Blue Cheese, Lite Italian, Creamy Italian, French, Thousand Island, Raspberry Vinaigrette, Fat-Free Ranch, Blackened Ranch
Garden: Green Peppers, Red Onion, Mushrooms, Black Olives, Cherry Tomatoes
Chef: Garden Salad with Cheese, Chopped Ham
Smoked Garlic Chicken: Cheese, Smoked GarlicChicken
Extras:Dressing 1.50 | Mozzarella Cheese 1.50 | Ham 1.50
Garlic Bread Sticks
Bread Sticks With Cheese
Cauliflower Bread Sticks
Served with Marinara or Ranch
Cauliflower Cheese Sticks
Served with Marinara or Ranch
Served with your choice of Ranch or Blue Cheese sides.
Small wings come with 1 side, Large Wings come with 2 sides. Extra side $1.50
Sm(8oz): $12 | Lg (16oz) $24
Cinnamon Sticks
9" Chocolate Chip Cookie